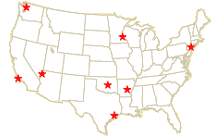 This exhibition has completed its national tour but the portrait can be viewed at the National Portrait Gallery, Smithsonian Institution. Visit www.npg.si.edu to learn more.


Explore puzzles, quizzes and fun historical features to learn about the life and times of George Washington.


What's missing from this Lansdowne portrait? Follow the clues and solve a make-believe mystery! Use your noggin and a special spyglass tool to uncover hidden layers of the painting, and learn fascinating facts about George Washington along the way. Start the sleuthing!